It's the type of celebration that had me watery eyed during the editing process. It's the type of event that was not only candy to the eyes but a spark to the soul. You see, Kristin, the bride, and I have known each other since 1999… she was still in High School…and she was also a subject in my very first photo-shoot. From the summers spent along the river, to the endless convos in her mama's kitchen, photo-shoots, drum circles on Hermosa Beach, and now her wedding… she has been a joy to know. I remember the conversations about the trip to Spain to visit a 'friend' who soon because more than…Now she's married and I sit here scratching my head to where the years have gone.


welcome to the world of married life my friend. And Jason, you are one lucky dude


Enjoy the peek into Jason and Kristin's celebration. And while you browse, just know they (along with an awesome team of family and friends) did everything themselves.
This first shot of Kristin initiated the swooning…. she made the headpiece herself.
He handmade garter.
I'm in love.
How perfect is this banner?! it was the first thing Kristin made when she began planning her celebration.
In lieu of a sand ceremony or candle lighting, J+K carried books down the aisle with them, they then added the books to their shelf 'library' as a part of the ceremony.
The kiss against the beautiful Eagle Creek Park setting and the Altar piece made by the bride!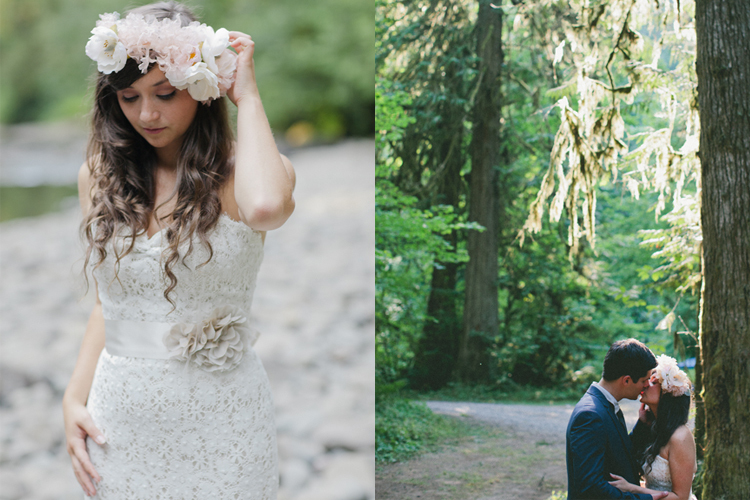 seriously?! hot. like. freakin'. FIRE
I couldn't get enough of the fabulous details… Kristin's aunt did the flowers, BTW.
How sweet is that cake topper… It once donned the top of Kristin's grandparent's wedding cake! Soooo many details… The old fashioned coffee pots, and coffee cups hand stamped with J+K's initials. Even a "spiking" station to give a little 'UMPH' to the Rosemary Lemonade.
The most brilliant seating chart for an A-Frame venue.
The bear rug! I giggled when I saw it… I not so secretly wanted to steal this for my house.
Thanks for allowing me to swoon publicly all over my blog.
the end.