For all you non-east coasters, you may recall the hurricane warning we were under about a month ago. I'm talkin' evacuate-the-Jersey-Shore-type hurricane… so you know it was on the news. Hurricane Irene 2011. Advisories to board up windows, stock up on canned goods and batteries, the works… Hey, even STARBUCKS was closed due to "inclimate weather". Call me crazy, but It's the kind of storm you get excited for, only, if you lived here in MA, you were disappointed. It was over hyped, over media-ized and a big let down. So much drama. I guess that's why most hurricanes are named after women.
Anyway, on August 27, 2011, it was Wedding vs. the Hurricane. Tessa vs. Irene. And, despite the torrential downpour, the show still went on…. OUTSIDE. I must say it presented me with quite the challenge. But thanks to a plastic garment bag, that once housed a bridesmaid dress, and gaff tape, I made quite the contraption to encase my camera in. Then, poor Erica, had to anticipate my every move and spend the entire ceremony following me around with an umbrella. Needless to say, the wedding won… and so did Tessa.
The wedding was held on Hamo's family farm in Shirley, MA. 200+ acres of lush green goodness. Your heart sang just being amidst all the tress and fields.
Tessa & Hamo, you two were surrounded by your favorite people who are reflections of you… to put it frankly, awesome is magnetically attracted to awesome. That in itself is what made your day so magical… you were/are surrounded by a magnetic and truly wonderful community of friends and family who have proved to be there for you….Weather or Not.Of course no bride thinks a hurricane is ideal for their outdoor wedding, but it truly made the day so special. Additionally, when the story was recanted to a few friends, they were so moved and chose to write a song inspired by the day. That song, 'Weather or Not' written by Rachel Taylor & Jim Trick and sung/played by Rachel Taylor, is the music for the slideshow. If you have 3 minutes, give it a listen… the words make me smile.
check out all that rain!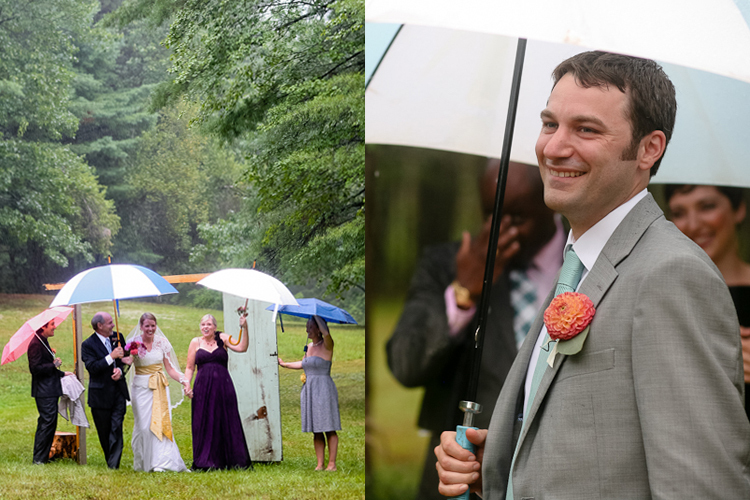 Thank you Erica for being my umbrella, Thank you Rachel and Jim for being a wonderful addition to my life personally and melodically. You two bring so much musical joy into my world. And thank you Tessa and Hamo (and family) for inviting me into your day.Cheers